The Best Boozy Brunch Spots in Scottsdale, AZ
You know what they say — breakfast is the most important meal of the day! And it's even better when you add on bottomless mimosas, build-your-own bloodies, and creative cocktails! Pondering over whether you're going to order something sweet or savory is the least of your worries. What drink are you going to sip on while getting your buzz on?
I've highlighted my favorite boozy brunch spots that I've tried in the Phoenix/Scottsdale area so far! Whether you're visiting for a Bachelorette party or you're a local, you will absolutely love these delicious, fun restaurants!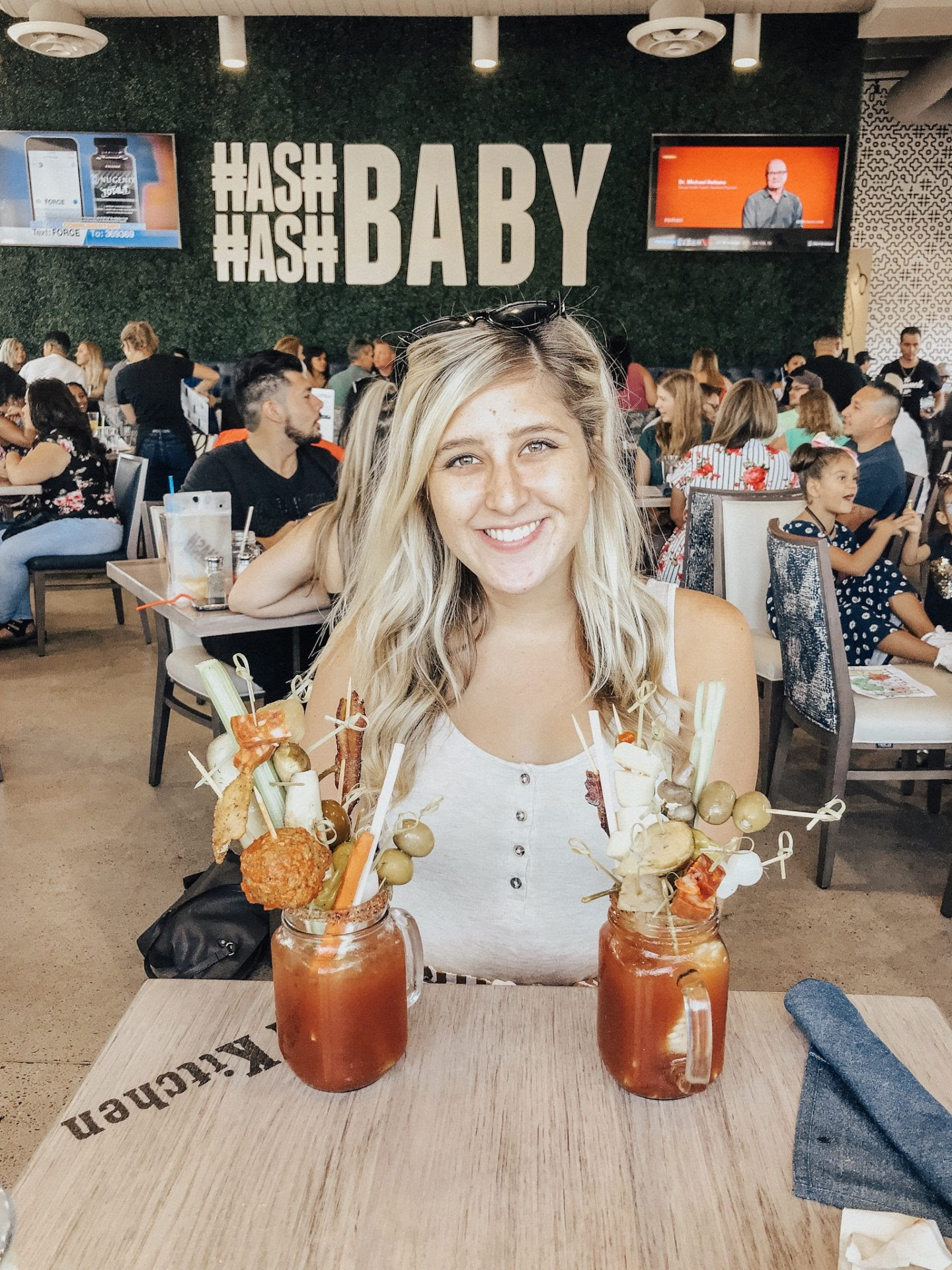 If you are planning a trip to the Valley, you have probably heard of Hash. Known for having Arizona's Largest Bloody Mary Bar, this boozy brunch spot is a MUST. The interior design is the cutest, they are constantly playing the best music, and did I mention their drinks are so damn good!?
According to Hash, "Mornings are for Mimosas" and boy do they offer any kind of mimosa you can dream up. They have your basic orange, but also offer kiwi, pineapple, peach, you name it! Or you can choose four and make a flight out of it.
Mimosa's not your thing? No worries! Like I mentioned, they have the best build your own Bloody Mary bar in the city! It is no joke! You can 100% make a meal out of your beverage. Or you can opt in to try the Cereal Shooter Flight, Vodka Flight, a Disco Cocktail, or the Hash Capri Sun. Yes, it's an alcoholic capri sun!
Food wise, start with the Cannoli Donuts (pictured above). You honestly can't go wrong with any of their entrees. For Instagram worthy dishes, order the Banana Split Brioche French toast or the Avocado Toast Hash Style! For flavorful and savory dishes, you'll love the HK Hashes! The waiter I spoke to highly recommended the Carnitas option and said it was one of their best selling dishes. I'm excited to try it next time!
Hash Kitchen has four different locations so you're bound to be close in proximity to one of them during your stay. However, be prepared to roll out of bed and get to Hash sooner rather than later. These boozy spots, while worth the wait, do not take reservations.
Hash is open Mon-Fri: 7am-2pm and Sat & Sun: 7am- 3pm.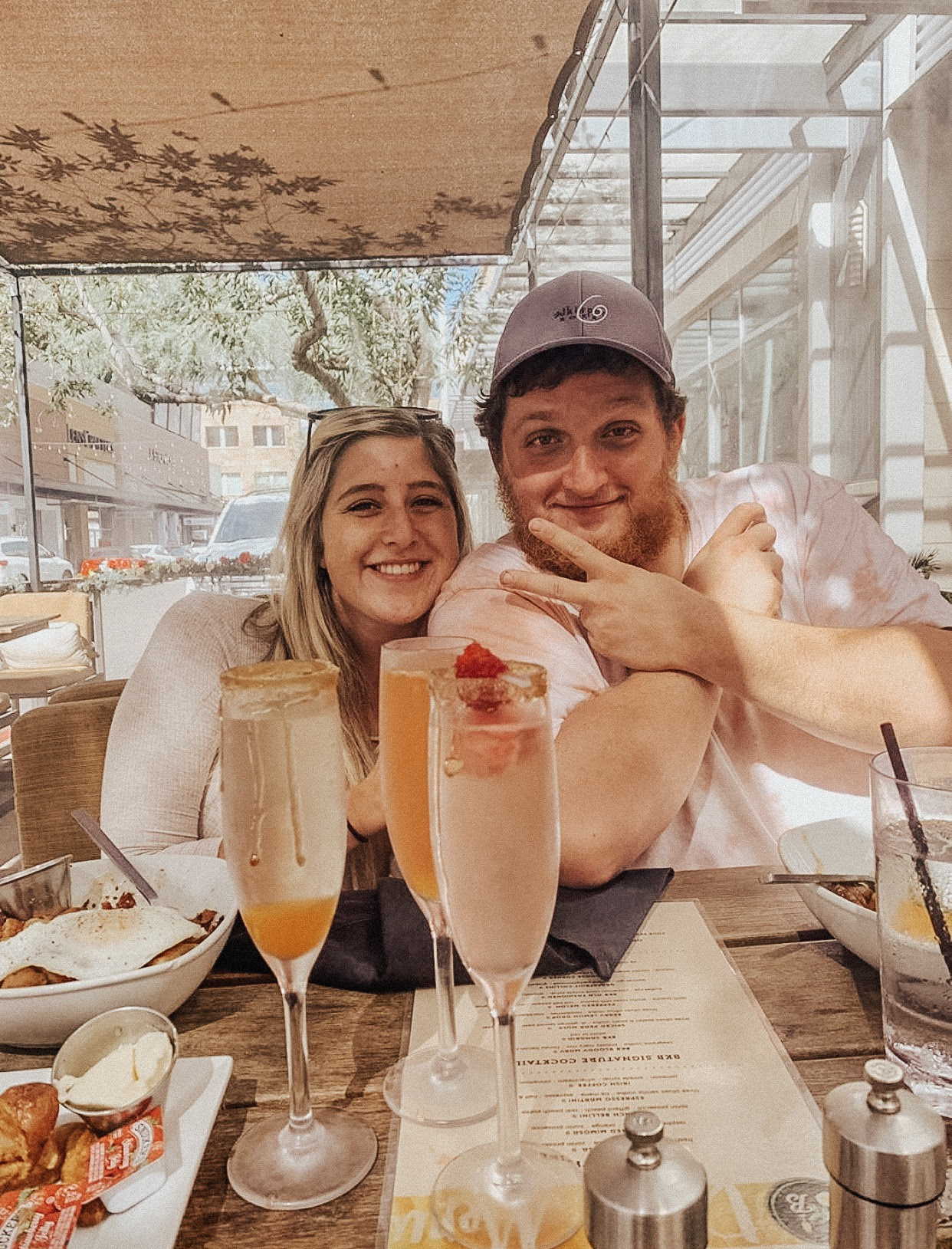 Located right in the Scottsdale Quarter, Breakfast Kitchen Bar has everything you could ask for and more! The vibe of the place is great and the best part is the outdoor seating on the patio. You can people watch and sip on one of their all-natural smoothies or, let's be real, delicious cocktails. I highly recommend the flavored mimosas (raspberry was phenomenal) and their peach Bellini! My friend ordered the Espresso Martini and said it was to die for! You can check out their drink menu before visiting here.
Besides mimosas and Bellinis, they have your classic Bloody Mary, sangria, and a cocktail called The Cardinal, which I am dying to try! Rosemary Lavendar vodka!? Count me in. Not only are their drinks super smooth and easy to drink, but their food is out-of-this-world amazing. I ordered the Pancake Bowl and don't even want to try anything else because it was that good. Eggs, pancake bites, bacon, pork sausage, syrup.. I mean my mouth is watering just thinking about it.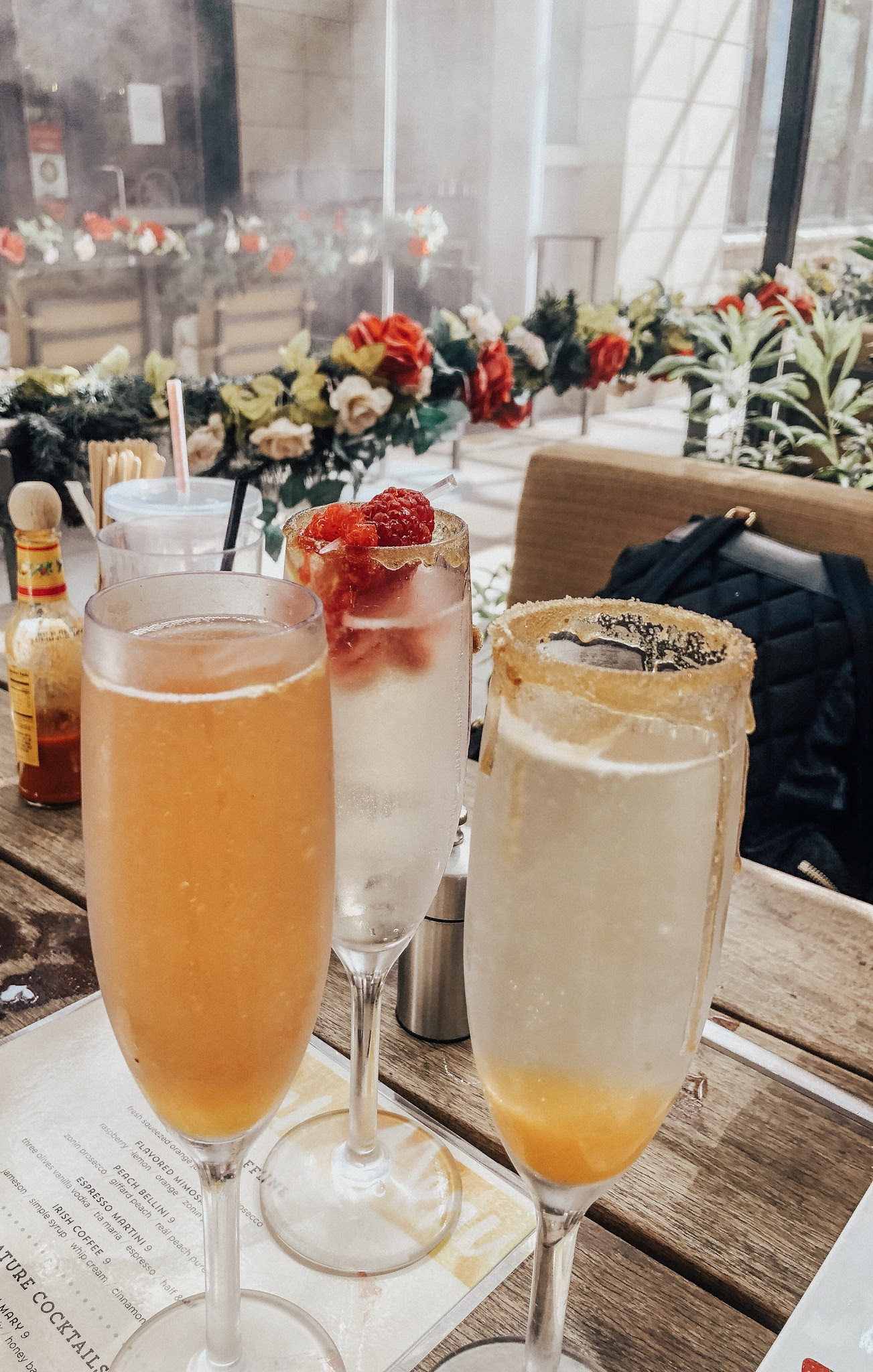 As a restaurant, they recommend their Shrimp Scampi Omelet, Churro Waffle and Keto Friendly Breakfast Pizza. If you are on the Keto Diet, look no further than Breakfast Kitchen Bar. They have a whole Keto menu specifically for you!
Currently, they only have one location at 15147 N. Scottsdale Rd Unit H133, Scottsdale, AZ 85254. But they have plans to open a second location ASAP!
Breakfast Kitchen Bar is open daily 7am-2:30pm.
Windsor absolutely had to make the list of best boozy brunches because… are you ready for it? They offer $5 cocktails, wine, and pitchers of beer every day until 5pm! You cannot get any better than this! I never understood how most bars have "bartenders" and some specialize in having mixologists. After experiencing the Windsor, I fully understand the role of a mixologist now. The drinks are so delicious (and so dangerous) you'll just keep throwing them back. Make sure to take a Lyft or an Uber to this boozy brunch location! You'll need it.
For drinks, make sure to order the No. 37 (my personal favorite). It is mixed to perfection with gin, elderflower, fresh squeezed grapefruit, and sparkling water. It is so yummy! And, remember only $5! Other delicious ones are No. 17 (cucumber vodka drink) No. 22 (raspberry & blueberry vodka w/ blackberry lemonade) and No. 53 (rum with fresh watermelon). I have yet to try them all but so far every single one has been super tasty.
The drinks are definitely what keeps me coming back, but their brunch items are pretty delicious too. I've throughly enjoyed The Simple life, which is your basic breakfast (eggs, English muffin, bacon and fruit), but I've heard amazing things about the Windsor Eggs Benedict and the Matador!
The Windsor is located at 5223 N. Central Ave in Phoenix and is right next to Postino Central and Federal Pizza. They are open Mon-Fri starting at 11am and Sat-Sun at 9am.
Perhaps one of the more classier brunch options in Phoenix is The Henry. Located right off of Camelback Rd., this breakfast/lunch spot will have you snapping photos of every corner of the restaurant. It's that cute! They excel at the boozy brunch because they offer a Bloody Mary and Mimosa cart that they wheel around and replenish for you. If you don't want to order off of the cart, you can visit their coffee bar inside (yes, they can make a espresso martini!) or order a drink off the cocktail menu at the table.
The best things on the weekend brunch menu, in my opinion, are the Flower Child Scramble, which allows you to eat healthy now so you can be bad later! The Caramel Apple French Toast is so delicious and they do not cut corners at all! You get a huge serving and will most likely eat every last bite of this goodness. The Chicken Fried Chicken was amazing as well, but hands down my favorite dish on the menu was the Spicy Sausage Scramble! It is full of flavor and mixed well with the cocktails!
If you're not looking for a huge brunch but instead just smaller items, they have a large variety of sweets available at the coffee shop/bakery to choose from. Or if you are not visiting on the weekend, you can order breakfast until 10:30 on weekdays. They offer egg sandwiches, açaí bowls, avocado toast, and much more.
Now for the most important part of the meal: drinks! The best drinks on the menu, hands down, are the seasonal pomegranate hibiscus (I've been obsessed with aperol since visiting Italy), Fig and Ginger mule, and Wake The Angels, which is gin, rose petal, grapefruit and sparkling wine! But again you can never go wrong with the table side Bloody Mary and mimosa cart!
Other honorable mentions:
RnR Gastropub in Scottsdale, AZ – Bring your brunch gang to RnR on a Saturday or Sunday (10am-3pm) for "Keep'em Comin' Mimosas & Bloody Marys!" Located in Old Town, RnR is a great place to start your Sunday Funday. And let me tell you, they make their mimosas how anyone should make them – 95% champagne, 5% OJ. Great bang for your buck!
Sip Coffee & Beer Garage – With two locations to choose from, Sip is the perfect place to hit the ground running on a fun girl's day! They offer Kombucha on tap (it's delicious!), beer, wine and more! Not to mention, the Phoenix location has a hidden speakeasy/tiki bar in the basement that offers more cocktails to try! Space is limited and it runs on a first come, first serve basis.
Snooze: An A.M. Eatery – Snooze allows you to feel good while you're dining with them! They are all about serving you the freshest ingredients and I have yet to try something off the menu that didn't blow me away! With 5 locations in the Valley, it's easy for you to pick a spot and start your day the right way! I highly recommend the Pancake Flight if you are going the sweet route! As for a drink, their mimosas are where it's at! You can choose to have your bubbles with orange juice, grapefruit, apple, pineapple, the list goes on and on!
Trust me, whether you are celebrating a birthday, Sunday Funday, having a girls day, or trying to nurse last night's hangover, at least one of these spots will do the trick for you! If you end up visiting any of these joints, please tag me in your photos (instagram: @kayliericks12) or comment below and let me know how you liked them! I can't wait to hear all about it!
About the Author:
Kaylie is a travel blogger and the face behind Run Away With Kay, a platform she uses to share detailed itineraries, travel tips and tricks about different destinations around the world. She currently resides in Phoenix, AZ, but feels most comfortable living out of a suitcase. You can find her constantly sipping on almond milk lattes, claiming the window seat on airplanes, and collecting new stamps in her passport.